Catherine Curzon aka Madame Gilflurt is a well-known character within the circles of online fascination with British history of the 18th Century and Regency periods. I was fortunate to share a guest post on her blog, A Covent Garden Gilflurt's Guide to Life, in January 2016, and now she's graciously agreed to share a story from her newly released non-fiction book, Life in the Georgian Court, which promises to be a fun romp through history.
~
An Untold Life
by Catherine Curzon
Many stories touched me whilst writing Life in the Georgian Court and, as sickly child in infancy myself, I was particularly moved by the plight of some of the more unfortunate royal daughters.
Along with her short-lived sister, Princess Elizabeth of Great Britain, Princess Louisa is one of those royal children who were destined to be somewhat forgotten by history, eclipsed by their longer-lived siblings. Louisa was born at Leicester House, Westminster, to Frederick, Prince of Wales, and Augusta of Saxe-Gotha. As grandchild to George II and Caroline of Ansbach her birth could hardly have been more illustrious yet all the privilege in the world would not be enough to save the little girl from a short life. Unlike Elizabeth, Louisa appeared to be a healthy child and this made her sudden decline and early death all the more shocking.
In keeping with her good health, Princess Louisa lived a relatively normal childhood, proving herself to be a bright and inquisitive little girl. Charming, intelligent and popular with her siblings and the household, when Elizabeth died in Louisa's tenth year, the surviving girl's own health took an alarming turn for the worst.
Without the buoying influence and friendship of her elder sister, the princess grew increasingly weak and frail. Eventually she took to her bed and it became apparent to her family that she would not be able to fully enter into court life. Although marriage plans had been discussed with the Danish house of Oldenburg, Louisa's ill health made the prospect of travel an impossibility and instead it was her sister, Caroline Mathilda, who would undertake that ill-fated match.
Weakened beyond recovery, Louise died at Carlton House aged just nineteen. The exact circumstances of her death were not recorded but, given its prolonged nature, it is perhaps likely that she was a victim of tuberculosis.
On 16th May, the St James's Chronicle recorded that "Yesterday Morning, about Ten of the Clock, died here [Carlton House], after a long and painful Illness, her Royal Highness the Princess Louisa Anne, his majesty's second Sister, to the great Grief of their Majesties, and all the Royal Family."[1]. It is a rare mention of the unfortunate young princess, so eclipsed by her illustrious relatives.
~
About the Author
Catherine Curzon is a royal historian and blogs on all matters 18th century at A Covent Garden Gilflurt's Guide to Life.
Her work has featured by publications including BBC History Extra, All About History, History of Royals, Explore History and Jane Austen's Regency World. She has also provided additional material for the sell-out theatrical show An Evening with Jane Austen at the Royal Pavilion, Brighton.
Catherine holds a Master's degree in Film and when not dodging the furies of the guillotine, she lives in Yorkshire atop a ludicrously steep hill.
Her book, Life in the Georgian Court, is available now from Amazon UK, Amazon US, Book Depository and all good bookshops!
~
About Life in the Georgian Court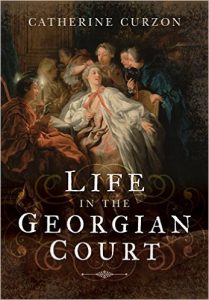 As the glittering Hanoverian court gives birth to the British Georgian era, a golden age of royalty dawns in Europe. Houses rise and fall, births, marriages and scandals change the course of history and in France, Revolution stalks the land.
Peep behind the shutters of the opulent court of the doomed Bourbons, the absolutist powerhouse of Romanov Russia and the epoch-defining family whose kings gave their name to the era, the House of Hanover.
Behind the pomp and ceremony were men and women born into worlds of immense privilege, yet beneath the powdered wigs and robes of state were real people living lives of romance, tragedy, intrigue and eccentricity. Take a journey into the private lives of very public figures and learn of arranged marriages that turned to love or hate and scandals that rocked polite society.
Here the former wife of a king spends three decades in lonely captivity, Prinny makes scandalous eyes at the toast of the London stage and Marie Antoinette begins her last, terrible journey through Paris as her son sits alone in a forgotten prison cell.
Life in the Georgian Court is a privileged peek into the glamorous, tragic and iconic courts of the Georgian world, where even a king could take nothing for granted.
~
Bibliography
Edwards, Averyl. Frederick Louis, Prince of Wales, 1701-1751.London: Staples Press, 1947.
Hadlow, Janice. The Strangest Family: The Private Lives of George III, Queen Charlotte and the Hanoverians. London: William Collins, 2014.
Hatton, Ragnhild. George I. London: Thames and Hudson. 1978.
Shawe-Taylor, Desmond and Burchard, Wolf. The First Georgians: Art and Monarchy 1714-1760. London: Royal Collection Trust, 2014.
Tillyard, Stella. A Royal Affair: George III and his Troublesome Siblings. London: Vintage, 2007.
Worsley, Lucy. Courtiers: The Secret History of the Georgian Court. London: Faber and Faber, 2011.
[1] St. James's Chronicle or the British Evening Post (London, England), May 14, 1768 – May 17, 1768; issue 1125, p.1. © The British Library Board.
Please share your comments for Catherine!
Save