With a new morning gown, glasses, fichu, and corset, plus almost a dozen items that I'm considering donating to the Soho Bazaar, you could say I'm on the final countdown for preparation for the Jane Austen Society of America Annual General Meeting (JASNA AGM) being held in my city of Victoria, BC, Canada this year. As a member of the organizing committee, I'm pleased to host people from all around the world.
With a theme of Sense and Sensibility in the City of Gardens, we are certain to please the over 700 attendees for this year's festivities, which take place on September 26-October 4 2022, with the actual AGM on the weekend. The conference features tours, workshops, international speakers, education sessions, meetings, exhibits of really old stuff, shopping, an author signing, and really, something for everyone. Those attending can buy from a selection of my books at Jane Austen Books and seek me out for a signature!
I'll be dressing up for the Saturday and Sunday of the AGM. The gown I recently sewed is from a pattern from 1808, and it took me nearly three years to complete it, doing some of the work in Mexico where I winter. That's because I had to remake the bodice when it wasn't quite right from the pattern, and I spent a lot of time thinking out the connections in a pattern that came with minimal instructions where I had to size it up for my bust especially, and interpret some of the instructions and their intention. But it goes on so easily, needing no real help from another person except perhaps to tie the back cords in a bow. The fabric choice looks truly Regency, but came from a bed sheet. Per my budget Regency bent, the whole thing cost under $25. The sheer fabric was free! I made a fichu from some of that sheer fabric as well.
My costume will be completed with Mary Bennet glasses, which you'll see in the next post, which will show me at the AGM. I also bought a fabulous 1810 custom made corset from Redthreaded, shown here. She even fitted it at no extra charge (except shipping) at the last minute, knowing I had this conference to attend. What a great corset-maker!
The Soho Bazaar is sort of a jumble or rummage sale of goodies that are useful to the Regency lady, such as reticules, fichus, bonnets, and gloves. If you donate an item, you get a ticket for a free item up to three tickets. Items are sold for a looney or a tooney (that's a dollar or two in Canadian money). It takes place before the fancy dinner at the AGM. When I went through my stuff, I had ten possible items, plus when I made my new fichu I miscalculated and made it too big, so when I remade it, there were two. Therefore, I have eleven possible items to give away that perhaps some Regency lady might like, and that's not counting the possibility of throwing in some shoe roses. I'll get my three tickets and try to fight off competition for a reticule that complements my purple gown. Or some really big feathers.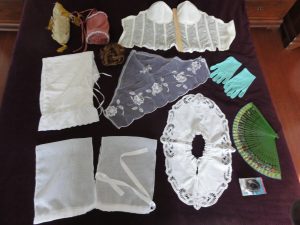 Next post will have my thoughts on the excellent speakers that I've signed up to see as well as the excellent costuming that I'm sure to find at the AGM. I've been told that nearly half the attendees dress up these days, at the very least for the formal dinner and ball.
Anyone who's registered to attend the JASNA AGM in Victoria this year, please do approach me if you see me. I'll have a special Suzan Lauder badge on in addition to my conference badge. If you ask me about prizes, I'll either give you one on the spot or enter you for a draw for later. It should be fun as always, when I'm around!
PS Don't forget to read my books! (This is a prize hint!)