For those readers who've enjoyed An Accomplished Woman, there's good news on the horizon: Book 2 in the series Cecilia's Mismatches, The Chaperon, is getting ready for publication! Leigh finished the content editing earlier in the summer, Brynn's proofreading has just been completed, and the book is on to formatting. The Janet B. Taylor-designed front cover is complete, which is just as pretty as all my books! We're in the process of finalizing the back cover art for those who adore the cover so much that they must have a hard copy.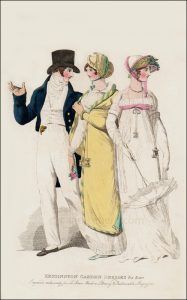 The Chaperon will also have Cecilia making a match that doesn't quite fit, but the story is quite different from Book 1. The characters wouldn't have it any other way. In this case, we'll see Everett and Audra take minor roles, with the new hero and heroine in the foreground. Cassie and Reeve are both so sweet and kind because they're channelling Jane and Bingley! And Lexie, the match,—well, she's something else!
You don't have to have read Book 1, An Accomplished Woman, to enjoy Book 2, The Chaperon, though it wouldn't hurt to get to know some of the characters ahead of time. Besides, Book 1 is excellent according to readers: a little nod to Jane Austen, with a pinch of Georgette Heyer in this Suzan Lauder original. I expect you'll find Book 2 no different in terms of reading quality.
The new cover and a generous glimpse of the story will be revealed in about a month's time when Meryton Press offers a set of long excerpts prior to the release of The Chaperon. Watch the Meryton Press newsletter (sign up at the bottom of the page in the link) and blog for more information.
In the meantime, delight in reading my seven other books, which have garnered accolades of their own!
2023 September 9: A quick update: Due to another book with the title "The Chaperon," Book 2 is now called "The Reluctant Chaperon." The cadence is much better!