My costuming road trips continue as I purchase hats, ribbon, beads, and trim in Mexico in the winter and bed sheets for gown fabric in Canada in the summer for my Regency costuming events each year. What adventures I have! This time, the gig was a presentation on the Thrift Shop Regency Costume Experiment (TSRCE) at the May meeting of the Victoria BC Region of the Jane Austen Society of North America (JASNA).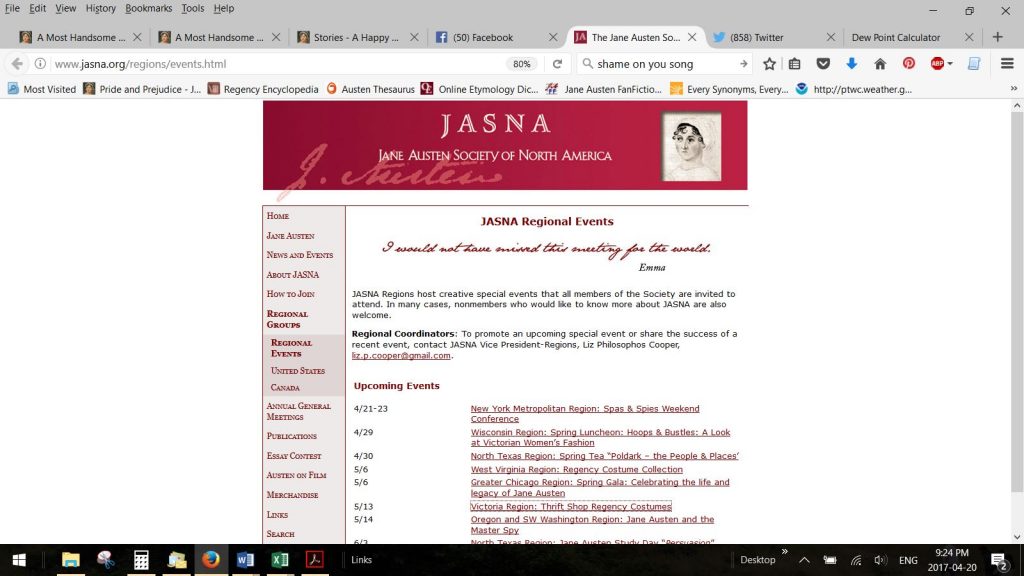 I shared a PowerPoint presentation explaining the TSRCE and its success, showed off a portion of my collection of Thrift Shop upcycled finds, and enjoyed the tea and goodies with other like-minded Austen fans on May 13, 2017. Here are the pictures to prove it. The presentation, complete with references to parasols: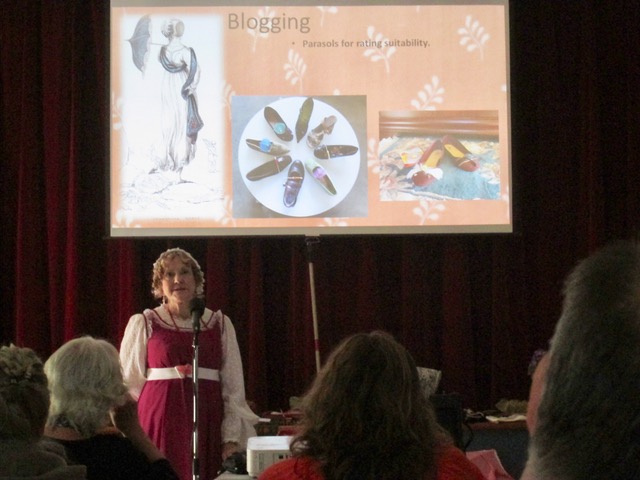 Here are some of the materials on show (click on the thumbnails to enlarge):
This is just a sampling of my stash. I really need to buy less and construct/sew more as the raw materials for Regency costumes are taking over my closet!
Me with my new coral beads, earrings, and fan, with some Regency hat wannabes in the background: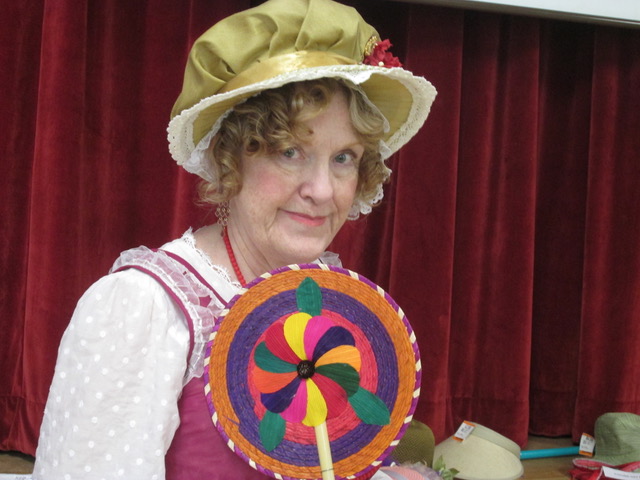 There was good interest in the program, and I did a pitch for the Jane Austen Festival in Port Alberni on July 14-16, 2017. I'll be there for the Guinness Book of Records count for most people in a room in Regency costuming on July 15 at 10am-noon. I also offered to email my drawings of patterns for a lace cap and my original cushion-cover reticules to interested members.
Thanks to Merle Brown and Alison Dacia Brown who shepherded me through my worries and needs for this event and helped make it a success, and to the members of Victoria JASNA for being so welcoming. Photo credit goes to Bruce, who also helped me with my technical issues for the projector, and Alison Dacia Brown.
~~~
Other news:
I'm currently editing A Most Handsome Gentleman, a P&P-inspired Regency comedy-romance novella that just finished posting at AHA, for a fall release.
Learning from My Mistakes will return soon with more punctuation and some POV tips!

Save