I promised three items from my Meryton Press published mini-novel A Most Handsome Gentleman some weeks ago. Here's the second of the three: an excerpt from the Netherfield ball. Prior to the excerpt, Charlotte has been introduced to Mr. Collins, who likes both her and Jane, and Elizabeth has agreed to dance with Mr. Darcy. The narrator is Elizabeth Bennet.
~~~
Charlotte stretched her neck to see something beyond our nearest neighbours. "I wonder what he said to Mr. Bingley to get his colour up. Mr. Bingley's easy-going nature does not usually allow him to become so inflamed."
I rose on tiptoe to see for myself. "Oh, no! He is attempting to lure Jane to the supper dance, yet she has promised that set to Mr. Bingley. They are fighting over her again. Pardon me."
As I made my way to the argument, I was thwarted by Mr. Darcy collecting me for his dance. He appeared seemingly out of nowhere and made a formal bow before me. I craned my neck around him to catch a glimpse of the commotion. With a drawn brow of confusion, he followed my gaze. His lips were a thin line of disapproval when his attention was once again fixed upon me.
"What are we to do?" I asked. "I do not want to draw attention to them, yet I hope to stop this foolishness at once."
"What do you think they argue over?"
I gaped at him. "My sister! Jane! They both wish to court her. Mr. Bingley is clearly her preference, yet my cousin stubbornly refuses to give way."
"She prefers Bingley?"
"Anyone with eyes can see that she does."
Mr. Darcy looked intently at them. "I can see no greater admiration towards any person. She smiles no matter with whom she converses."
"She is shy and does not want to expose her feelings for fear of being hurt. But observe her eyes—how they shine when she looks at Mr. Bingley. That tells the tale."
It was not the best time to say such a thing. Jane's eyes were not shining at the moment. Instead, she was glaring at my cousin as if she wished him to burn up and disappear like a guttering candle.
"Please excuse me." I did not look at Mr. Darcy while I quickly curtseyed and dashed off in the direction of the altercation. I was not certain how he would take my abandonment of him for the promised dance. Goodness knows, I had seen the expression of disapproval on his face often enough, and to make matters worse, I could not expect to dance with him later in lieu of the delay. Mr. Darcy had indicated a propensity for implacable resentment, and this was one of the times I deserved it.
My goal when I reached the disagreement was clear: find a way to separate my cousin from Jane and Mr. Bingley. Was this going to be an easy task? His handsome face was twisted into something unpleasant, and even so, he was still the most comely man in the room. Who could chastise a fellow so fine looking as to be admired by every lady present?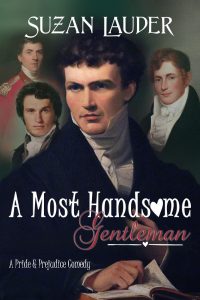 ~~~
Do you not just love the handsome gentlemen in this blog post? But what about Mr. Collins vying for Jane, and Mr. Darcy's knowledge that Jane prefers Mr. Bingley?
Remember, I have a prize package to be drawn in April and you must comment or follow my blog to enter. It consists of a signed copy of A Most Handsome Gentleman, a choice of a Suzan Lauder TSRCE hand made pineapple reticule or grown-up lady's lace cap, and some other trinkets.
You can look forward to another A Most Handsome Gentleman post in the next weeks, but this time, it's not only related to my book, but also to my blog series on writing tips, Learning from my Mistakes.
~~~
Happy Birthday to Meryton Press author Amy George, who is celebrating by continuing her blog tour for The Sweetest Ruin.