Poll time: Another instructional post on what to buy, or The Big Reveal: my Regency gown purchases to date? Okay, here's the boring list… just kidding!
I started shopping for my costume for the 2015 JASNA AGM in July 2014. Early on, I decided my top dollar was $100 for a gown that required almost no modification to make it Regency-appropriate.
My second and third purchase for this blog, along with a $3.99 reticule, was a dove grey coat dress (far right) for $49.95 at Value Village, the most expensive item I've purchased to date. The pelisse-like style of this dress could not be passed up: the bodice has a double-lapelled crossover in front while the skirt has a faux front opening. It was intentionally purchased 4 sizes too large to allow modification for gathering in back. In the photo, the skirt is turned back so you can see it's fully-lined.
I consider this purchase a bit of a mistake that I hope I can wiggle my way out of! Even with the large size, it has minimal additional fabric at the under-bust level. The bodice is huge, and since the front opening is faked, it has an invisible zipper in back to make additional reworking complicated!
The skirt is flared, so between it and the bodice, there's plenty of extra fabric to make a faux-puffed sleeve atop the long, straight sleeves. However, this flared skirt will look odd with the tiny amount of gathering. To make the grey dress into a pelisse that fits will be a lot of  work—and might not even be possible.
A navy blue strapless gown was purchased at Value Village for $19.95. The generous skirt has a pocket-pleated top edge that sits just above natural waist, so it's about 2" too short for floor length at empire waist. This is easily remedied with a bit of lace at the hem. The bodice is tight, fitted and spaghetti-strapped, laced in back in a V-shape. The skirt has an underskirt; the top half is lining fabric that's not an exact match to the gown, with the bottom two feet in black net crinoline (see photo above). These can be used to make sleeves and modify the bodice to attach them.
Unless I find a simpler solution, the blue gown will be my evening/ball gown; however, this gown will need to be almost entirely remade: remove the skirt at the top pleat cuts, then reattach with a flat front and back gathers, add lace to the bottom, add about two inches to the bodice to close the V-lacing for my comfort, make shoulder straps to attach sleeves, and make sleeves trimmed to disguise the fabric mismatch.
I made a bit of a panic decision when I bought it, as it seemed I'd never find anything suitable, it was cheap and had lots of fabric, and I had just realized my parking meter was expired! But completed, it will be unique!
My collection includes three short dresses for "spare parts" hence, the Frankenstein reference. I bought two garments for their trim from the Salvation Army Thrift Store. I spent $14.95 for the cream silk mini-dress, which has fabulous embroidered panels (perhaps instead of the lining and black net for sleeves and bodice trim on the navy gown!) as well as enough Vandyke (pointed) lace for a good-sized skirt bottom (navy, navy, navy!). The orange silk Indian blouse has elaborate pointed lace for $6.95. The fabric won't work for anything Regency.
I already owned a multi-coloured paisley print silk dress with gold thread, a potential bodice and trim for a ball gown. I'm watching for a nightgown or slip dress in one of the main colours.
The star of the show is my most prized purchase: a white Swiss-dotted lightweight cotton 1980's "Prairie dress" vintage wedding dress (on the left). This gown was $33.95 at WiN (Women in Need) Vintage and Thrift Superstore. I found it just after I had the difficult episode of social anxiety described in an earlier blog post, and it perked me up!
It features a lace-trimmed high neck; long, puffed sleeves with matching lace on the cuffs; lace-edged petticoats attached with the skirt (see photo above), and a separate, plain camisole. There are lovely lace insets and narrow pleats for subtle detail. The skirt is at the natural waist level, and well-gathered all around.
The dress fits well except for a tight bust area, and it's back zippered, which means if I remove the zipper, the resulting relaxation of the fabric over "the girls" will result in a gap in back. I'm torn between being more Regency-correct and the work involved in figuring out a way to modify the bodice without too much work.
This is intended for my morning gown or day/walking dress. I've shown the simplest modification.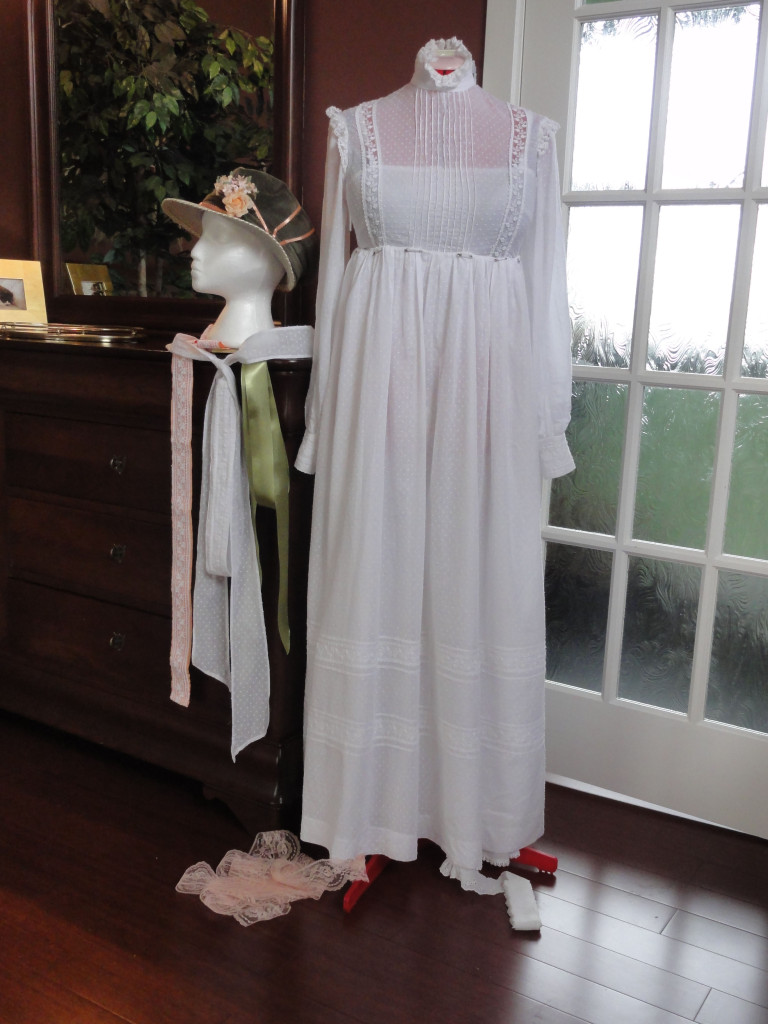 The skirt was raised without removing it, and re-attached to the under-bust. I've safety pinned it every three inches or so, and when covered by the matching white waistband with ties (left of dress) or a ribbon for colour, it becomes a close enough facsimile to a Regency gown.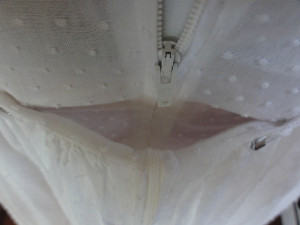 For a neater finish than safety pins, no-sew fabric tape alone will not suffice, as it is not strong enough. The skirt can be tacked in place with the fabric tape, then either machine sewn or whip-stitched for strength.
No matter how the skirt is attached, if you keep the zipper, you must leave a width equal to the depth of the pocket of the zipper on each side, so you can operate it. I've propped it open for the photo, but it doesn't droop since the zipper is stiff. I've been told you can hide the zipper with a shawl!
If raising the skirt makes it too short, you can add lace to the bottom of the dress or the petticoats as shown above, and/or raise the top edge of the skirt to a position where its top edge would be at the bottom of the matching waistband, as in the 1815 gown. However, around 1815, gowns were shorter!
A great deal more could be done with this dress: the skirt could be removed and all the gathering moved to the back, and at the same time, the petticoats could be attached to the camisole to make a separate garment that can be used elsewhere. The sleeves can be modified to look like a top puffed sleeve over a straight sleeve, from as simple as attaching a ribbon level with the bottom of the bodice, to as complex as adding lace panels to make them longer, with a slimmer cuff, which is more Regency. I mentioned the zipper earlier. Dare I go whole-hog and make a classic diamond-back? Yikes!
The thing is, the dress is close enough, in my estimation, with perhaps the exception of that zipper. What's a Frankenstein without a zipper somewhere?
Newsflash:
Since I prepared the photos for this post, I bought a 1960's jonquil dress (such a popular Regency colour!) that may need less work than the navy! Woo-Hoo!
Trouble is the bodice fits perfectly, but the skirt is 2" too tight—everywhere! I know! Who is built like that?
Good thing is a ton of sheer overlay plus a cape-like draping begging to be made into back gathers. I can put a period-style decorative panel along the centre front to accommodate my tummy and butt—I hope I can find the right fabric!
Also, I bought a cool hat, thinking it looked a lot like museum Regency ones, then realized the nice square-woven sections between the swirly fabric parts were made of synthetic ribbons—pretty much plastic! So I'm Lydia, with a very ugly bonnet that I'm going to rip apart as soon as I get home. Good bones, though.
NEXT POST: THE LAST IN THE THREE-PART INITIAL SERIES ON GOWNS WILL DISCUSS THE VALUE OF PURCHASING A CUSTOM-MADE REGENCY GOWN, AND WHAT TO LOOK FOR WHEN SHOPPING FOR A USED GOWN TO BE RE-PURPOSED FOR YOUR UNIQUE REGENCY GOWN. THERE WILL BE MORE GOWN POSTS IN JUNE TO SHOW THE FINAL PRODUCT AND SOME EASY TRIM TECHNIQUES TO MAKE YOUR GOWN SPECIAL AND FAKE SOME REGENCY DETAILS. BUT WE MUST MOVE ON TO HEADWEAR AND HAIR, RETICULES, JEWELRY, AND MORE UNDERWEAR KIND-OF-STUFF IN BETWEEN!