When a course comes up at your local university promising to teach about dancing in Jane Austen's novels as well as practice a bit of actual Regency period dancing, what does a Janeite do but jump at the chance? And that's exactly how I spent my Saturday mornings for four weeks this autumn!
"Dancing with Jane Austen" was offered by the Continuing Education Division of the University of Victoria, fondly known locally as UVic. The teachers were JASNA life member Charlotte Hale and JASNA member and local dance teacher and caller Rosemary Lach, who called the balls at the Port Alberni Jane Austen Festivals I attended in the past. The dozen participants were all Jane Austen lovers and very motivated to learn more.
To start the program, Charlotte Hale provided an entertaining presentation on one or more of the novels each class, as well as touching on topics such as history, etiquette, apparel, conversation, and conventions of the Regency, and especially, the dance scenes in Austen's six novels. For example, we learned to bow and curtsey, learned that a deep bow was only for Mr. Collins and his ilk. We discovered that one of the pet peeves of the presenters was the lack of gloves on the actors in the TV and movie adaptations of Jane Austen's novels. It was improper for either of "the sexes" to be without gloves at a ball. As a Regency no-no on an adaptation ball, in my opinion the lack of gloves is now second only to a confused costuming nightmare in a more recent movie.
One of the highlights of the presentations was the synopsis of the book. Charlotte cleverly wrote her own summary that shortened each novel to a few minutes, then created a story using stick people with hairdos to differentiate them. Each character got a one-word characterization plopped on the top of their head on the screen, and occasional captions enhanced the entertainment. An example from Persuasion can be seen below. Participants all agreed that this was a favourite part of the presentation, which also included numerous period art pieces and photos of the actors from the various adaptations to help spell out the dance scenes and their influence on plot and characterization, as well as some video clips of the dance scenes and the men (and sometimes women) with no gloves. Can you tell I like that part of the etiquette?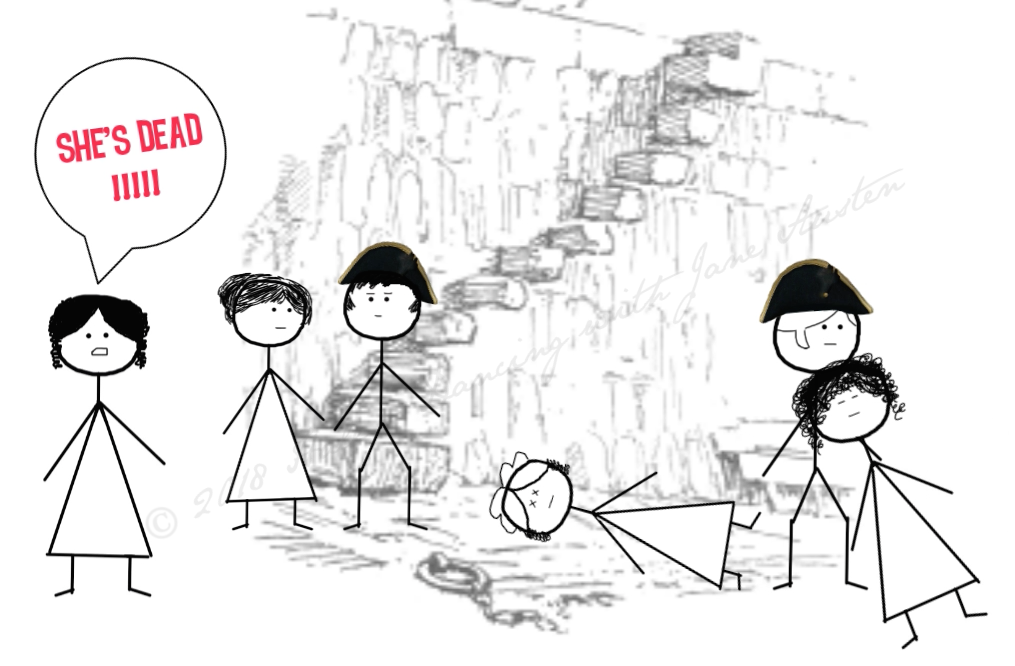 After Charlotte completed our PowerPoint presentation, dance instructor Rosemary Lach led the experiential part of the class. This was where, sadly, I did not shine. I'm quite uncoordinated as well as easily distracted, in addition to having a problematic shoulder. During one class I was suffering from a balance problem that day so I had to sit out the Cotillion (Allemande) with the ladies who had physical issues that prevented them from dancing. But it was fun to watch and make notes to use in future story writing!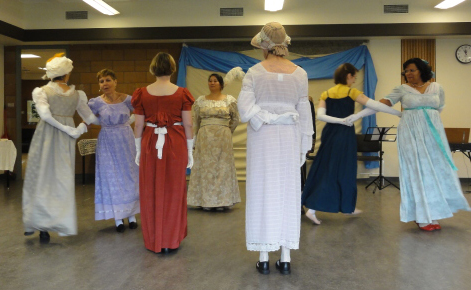 Because Rosemary called out the moves for our Regency era English country dances, it was fairly easy for most participants to learn them. We learned to smile at our partner instead of watching the floor since, in the Regency, a ball was an opportunity to check out possible marriage matches. There was skipping, slipping, three-steps, circles, squares, lines, and chains. We learned that a waltz in the Regency was a country dance to a ¾ beat, and we practised the "Duke of Kent" waltz.
During the last class, we were encouraged to dress in Regency costume, and oh, how pretty and handsome my classmates and I were. I chose my lilac ball gown with my best "Grown-Up Lady" lace cap (some chose morning gowns since the session was from 10am to 1pm) and many rented their outfits from a local theatre. I brought spare gloves for others who may have forgotten, and one of my wallflower friends borrowed a pair to go with her fabulous vintage shawl. Once we finished the presentation portion of the class, we were treated to Rosemary and Charlotte showing us the fancy footwork and forms for the minuet prior to our guests arriving for the ball and tea, and a group of eight practised the Cotillion to show our guests.
A
t noon, we were joined by some costumed family members of the class as well as some people who seemed to know the dances already, so the dance line was quite long. We were also treated to live musicians for the dances! I sat out all but the first (La Boulanger, in which my partner was a lady handsomely dressed as a gentleman!) because of all my afflictions and so I could take the photos you see in this blog post. I'm a cross between Mr. Collins (when I dance) and Mrs. Bates (when I sit out). The tea and treats afterwards were my kind of party.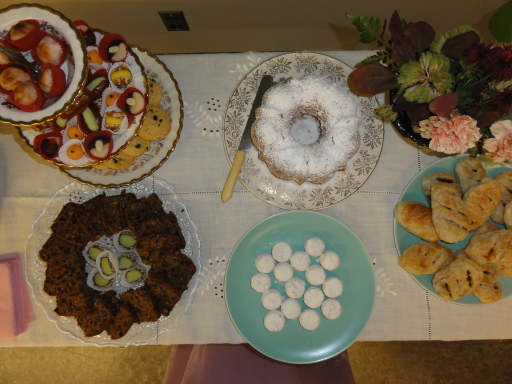 I do hope the presenters offer this again to a new group of Janeites. All the participants had a fine time and enhanced their own knowledge admirably.
~~~
In other news: Those readers who enjoyed The Mist of Her Memory as it posted at JAFF super-website A Happy Assembly will be excited to learn that it will be published in early 2019 by Meryton Press! For those less familiar, it's a Romantic Suspense novel with a strong mystery element, based on Jane Austen's Pride and Prejudice. The novel will be suitable for all who have read Pride and Prejudice.