I'm truly on holidays. How do I know this? It's 27C and sunny! (That's 81F.) Of course, no one expected this summer-like weather in Louisville, KY in October, but they do it right around here!
New Albany and the Harvest Homecoming Festival

After a relaxing morning to compensate for yesterday's air travel, Mr. Suze and I headed out for an afternoon of tourism. We checked the forecast, and I was glad I'd thrown one pair of shorts into my suitcase, as it was already warm!
Our destination was lunch at the food booths of the Harvest Homecoming, taking place October 3-11 in New Albany, Indiana, across the Ohio River from our hotel. We caught the #71 bus on Jefferson, about 4 blocks from our hotel.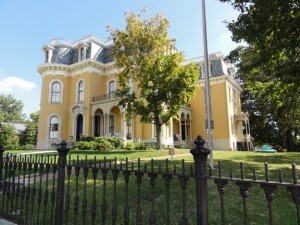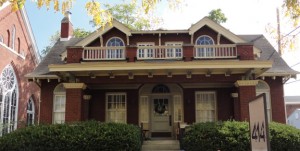 The trouble was, there were no events for the festival today! The food booths and craft fair start tomorrow, when I'm registered in sessions as part of the 2015 JASNA AGM!
We found a great sandwich place (Toast on Market), then enjoyed a long walk along Main Street then back along Spring Street in New Albany to see many fine houses and large commercial buildings from the 19th century in restored condition.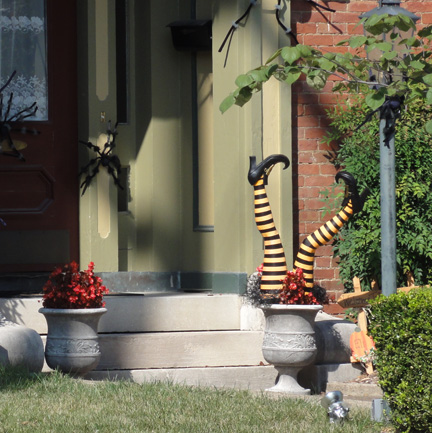 The Emporium!
Upon our return to Louisville (pronounced Loo'-uh-vull), I met up with Meryton Press Author Linda Beutler during registration for the JASNA AGM. After a chat and introductions to her friends from JASNA SW Washington/NW Oregon, we were about to set off to rest before dinner.
But first, we peeked into the Regency Emporium rooms to see all the goodies that were for sale: gift items with Austen quotes, both modern and Regency jewelry, top hats, hairpieces and wigs, paper products, "grown-up lady's" caps similar to the John Williams Dress Cap pattern from 1826 in simple muslin, wax bas-relief profiles, books, toys, and more. Fewer than half the booths had merchandise (6pm Wednesday).
Ready-made Regency gowns were for sale for $200-$300 in a rainbow of colours, multiple styles including pre-Regency, and many sizes, mostly larger! The fabrics and finishing details showed off the designer's ability to make each gown special, and I recognized her from Etsy (I think–if it's the same person). Her work often has modern flair, but it's so pretty, only the snottiest costumers will whisper and point. Most JASNA-goers will be pleased to see such a pretty gown!
My author colleague sneaked an early purchase (the Emporium officially opens tomorrow at 8am) of a beautiful shawl at a budget price from a vendor who also sold sari fabric for gowns, many eclectic books, and a few framed Regency fashion magazine prints! She showed us how to wrap a turban in far simpler terms than the videos, and mentioned she'd learned it from a Canadian! My favourite set of items for sale was right up the alley of the Thrift Shop Regency Costume Experiment: her lovely collection of "found" vintage reticules of all types!
On the way to the elevator, we nearly bumped into a pretty natural blond woman, casually dressed, and wearing glasses–OH! Author Sharon Lathan, one of the organizers of the author signing event on Saturday. She looked like an ordinary person! This is a taste of what to expect this weekend!
Jeffersonville via the Big Four Bridge
After a rest, my husband and I met Linda to walk over to Jeffersonville, IN for dinner. The paths along the Ohio river iin downtown Louisville are wide and surrounded by park area, and the huge area of bicycle racks for the weekend's Iron Man Triathlon event was impressive!
We thought it was a half hour or so walk–but it turned out to take 50 minutes just to get to the footbridge! We were thirsty!
We chose the first restaurant (Red Yeti Brewing Company) we found in Jeffersonville about another half hour later. A prompt delivery of unsweetened iced tea and we were chatting happily as if it had taken 5 minutes to get there. (I like a little sweetening, but most sweet tea is too much for me, and Linda likes her tannins raw!) The memorable food featured yummy details like bacon jam on the brisket sandwich, and we all declared ourselves satisfied!
The rest was sufficient to restore our energy, and we walked back on the "short cut" along city streets instead of along the riverside, which shortened the trip to under an hour.
Tomorrow, Linda and I will let Mr. Suze explore on his own while we haunt the shops of the Emporium until our seminars start.
Give-aways!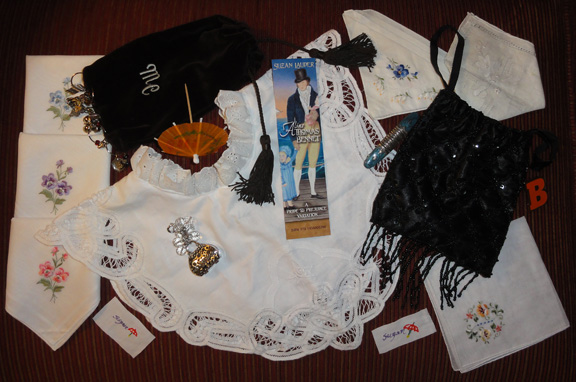 Remember, if you're also here in Louisville with us, and have followed the blog, look out for me so you can meet me to let me know. I'll be in costume Friday and Saturday, and in regular clothing Thursday and Sunday. The items in the photo will be given away here, a few in each of the next four days.
Linda and I will be signing copies of our books at the author booth on Saturday at 3:45. You can bring your own copy of Alias Thomas Bennet or buy a copy from Jane Austen Books at the AGM (the same for Linda's 4 JAFF books!), or just stop by to say "Hi!"
For the balance of the followers of my blog, don't forget to comment, as I'll be giving away TSRCE prizes to be mailed out to winners of the draw on the blog, too!
UPDATE: Because we've had a lot of trouble with spam, some types of email addresses are being blocked by an extra-enthusiastic spam filter. If you've had trouble commenting on the blog (get an error message), I encourage you to comment on my Facebook page and mention the difficulties so we know for sure whether our spam blockers are too intense.