Anyone who has read the dedication to The Mist of Her Memory will figure out that when my house is quiet, I get a lot of writing done. The event that often causes the house to be quiet is the absence of Mr. Suze. He's a busy, chatty, music-listening kinda guy who loves his bicycle. While we're in Mexico in the winter, he disappears for long rides on his mountain bike for a couple of half-days a week. When we're in Victoria in the summer, he road bikes along an extensive network of paved trails for a similar amount of time. Usually, this is when I write. I turn off the radio, occasionally play some tunes that have been selected specifically to stir my writing for the style of story I'm working on, but I'm focused. There's no one poking his head in my space to enquire whether I'd like to go for coffee with Brad and Janet this afternoon; or asking did I know where he left his phone; or building or repairing something; or to deciding to vacuum. Yes, he's a great husband. Great husbands can be noisy.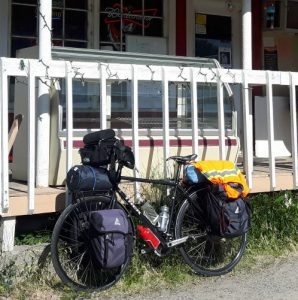 Last month, he took a week and a half for an epic trip to explore the Okanogan and Columbia River systems in eastern Washington as well as visit friends in Smalltown, WA. He camped along the way and rode on his own for 84 km (52 miles) a day on average. He had hoped to travel home from the friend's home in one day using truck, train, bus, car ferry, and bike. Well, the bus was a no-show, so he missed the car ferry and had to take the more expensive passenger-only ferry from Seattle. The picture shows the load he had on his bike for this camping and cycling trip—a total of 38kg (85lb). He rode 600km (370 miles) and had about 6000m (20,000 ft.) of climbs, in weather that was mostly mid 30's in oC (90's in oF), but there was wet snow in the mountains. The scenery was magnificent.
In the meantime, I did a little writing on my Regency romance trilogy, edited my existing writing, started taking an online course on Music in the Regency through the RWA Beau Monde, and finished sewing a Regency gown made from some thrift store sari fabric seconds I'd had on hand for a couple of years.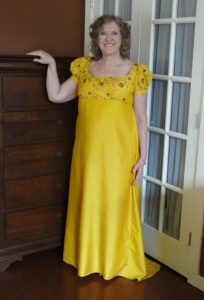 I'd cut the dress out last fall, intending to sew it in Mexico last winter once I procured a sewing machine. Mr. Suze and I practised my virtually non-existent Spanish to struggle through the interesting procedures around buying my machine from a rent-to-own store. Did you know a customer must stand in two different lines, one to pay and one to collect their merchandise, once they've decided to buy? The sewing machine is a newer version of the ancient one I have back in Canada, bought when I was just 19 years old, so I didn't mind that the manual is in Spanish. But once I'd progressed so far on sewing my gown, I needed Millie, my dressmaker's model, to ensure that it fit since it was impossible to do so on myself. So a partially sewn gown came home with me and sat around until Mr. Suze made this trip.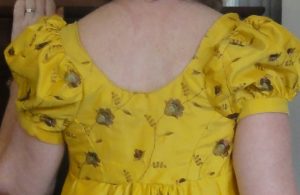 Isn't it lovely? Note the Regency shape of the back bodice and sleeve—I made my own pattern. I also love the train.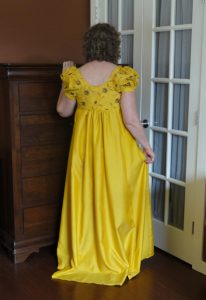 However, I'm not sure where I'll wear this gown. Perhaps to the next local JASNA meeting, even if the meeting is in the afternoon and this fabric and the style makes this dress clearly an evening gown. I can't perform Jane Austen dancing—I have a bad shoulder—so events such as the Port Alberni Jane Austen Ball (a three hour drive away) or other Regency country dances are not going to entice me to spin it around a few times. But it's a pretty dress, and my friends are sure to compliment it, poor seamstress skills aside.
I also started another gown. This one's a morning dress, made from some lovely lightweight floral bedsheet fabric that looks just like fabric from Jane Austen's time, though it's probably a touch heavier than muslin. It's also about half-made, and when I finish it, I'll show it here. Mr. Suze is talking about another, shorter trip; however, writing calls me too. Decisions, decisions.