I clicked the wrong link. I intended to email the organizer of a Jane Austen ball to tell her about the Thrift Shop Regency Costume Experiment, but I accidentally clicked a link that led me to Madame Gilflurt.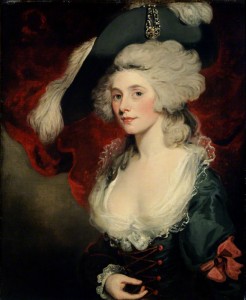 "No problem," she said, "but would you consider doing a guest post on my blog?"
Of course! I love to hear myself talk, and a busy blog sounded fun. I had an idea for a blog post that came up during my research on Regency gowns, and offered to post it on her blog. She loved the idea. It took a while for me to write the actual text of the post, and by then, Madame Giflurt was in the middle of her own series.
Today, the post is up: The Itch Exposed: A Special Report for the Admirers of Regency and Georgian Fashion. It's a tongue-in-cheek look at an accidental observation I made while perusing hundreds of Regency gowns in museum pieces, historical paintings, and fashion magazine drawings—the position of some ladies' hands in drawings from Costume Parisien and other art during the early 1800s. You can read the post at A Covent Garden Gilfllurt's Guide to Life: Glorious Georgian dispatches from the long 18th century…, Madame Gilflurt's blog.
Madame Gilflurt, also known as Catherine Curzon, blogs about the fascinating personalities of history, focused on the 18th Century and Regency periods. Her lively blog includes a number of interesting guest writers each year. She is also the online host for An Evening with Jane Austen, and may just get to see Adrian Lukis's (Mr. Wickham from the BBC/A&E 1995 production of Pride and Prejudice) phone number come up on her call display from time-to-time. Madame Gilflurt will join road trips with the redhead for a guest post celebrating the release of her non-fiction book Life in the Georgian Court, which is being published by Pen and Sword books in June 2016.
~~~
A reminder to catch up on chapters of Letter from Ramsgate, now posting at A Happy Assembly! We're past the bad angst and moving towards mush. The comments thread is as much fun as the story!
~~~
As can be seen on the sidebar of this blog, Then Comes Winter has been selected as a favourite on three top JAFF book blogs! YAY!
~~~
Please comment on this blog (below) at any time, or for today's guest post, on Madame Gilflurt's blog!