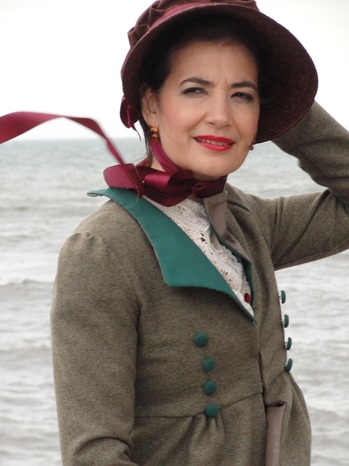 I was fortunate to attend a performance of the musical adaptation of "Jane Austen's Persuasion: A Musical Drama" by Barbara Landis on July 6, 2018 as part of the Port Alberni Jane Austen Festival. It was a brilliant performance highlighted by 49 musical pieces from music of Jane Austen's time to Irish folk tunes to classic opera, much of which is enhanced by lyrics and arrangements by Landis, who also took the lead roles in the play. Landis is certainly a flexible force behind this production, taking on the role of playwright in this variation of Jane Austen's shortest novel as a tribute to the 200th anniversary of its publication. In discussion with some of the cast later on, I found out that she also takes a lead financial role and is a sort of mother to the very large cast and team involved in the performance, which has toured the world since 2013. To top off her ties to this situation is the fact that she's a distant relative of Jane Austen. I'm sure that was as much of an impetus to do this show as any other reason.
Persuasion is clearly a strong romance, with the obligatory angst keeping the protagonists apart until the key moment when they both understand that the other's love has withstood all the trials it has been forced to bear. Finally, the couple comes together, eliciting tears from the romantics in the audience.
A notable performance of the evening came from the perfectly austere, then flirtatious, then romantic–with perfect timing on those characteristics–Jeff Diebold as Captain Wentworth, who was wonderfully tall and handsome in his captain's uniform. Comedic turns by several of the cast members were additional highlights, most notably by John B. Boss as a flamboyant Sir Walter Elliott, and Gretchen Mink Hansen, who could have walked off a Rowlandson cartoon, thanks to the costuming and her body language! I was especially impressed by the acting and singing of the dual roles of Anne Elliott and Jane Austen by Barbara Landis. Though Landis is significantly older than Anne is in Austen's canon, the gifted and well-experienced soprano pulls off the multi-faceted role and character changes well. Her "bloom" comes back when she is in love, and she is the glue that holds the production together.
Nearly all the cast members were strong in voice and excellent actors. The odd time there was a mismatch with a stronger and weaker voice, however, at other times the duet was magical. With so many tunes to choose from, it's impossible to pick out highlights. Landis did a marvelous job of timing and matching the music to create a seamless production with so many actors and songs.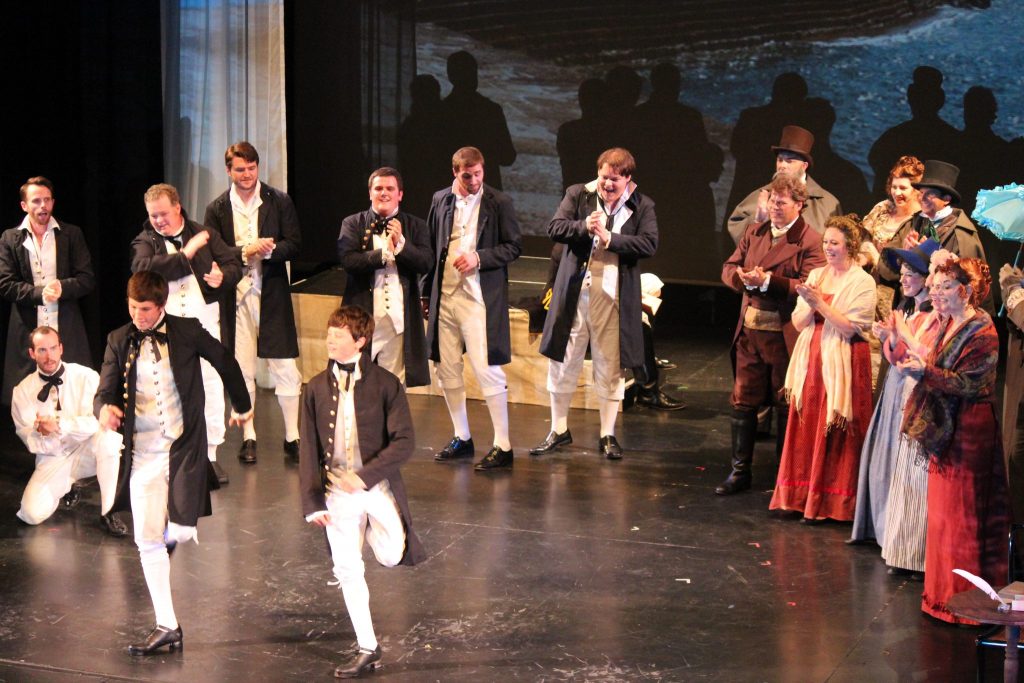 Many in the audience were particularly enthralled by the two professional Irish dancers, but for me, the cameos that were most enjoyable were the choral music and classical opera, but that's purely because I love those types of music. This brings up an interesting point about the production: it's got something for everyone, yet no one style was so overdone that those who weren't big fans could be tired of it.
Costuming was a delight to the eyes despite some Victorian-looking hair styles, black neck ties instead of white Regency cravats, and a dearth of top hats. The lovely gowns and handsome tail coats were evident again the following day when the cast joined the festival-goers to try to break the Guinness World Record for people in Regency costume in one location–and came up only 60 short. I loved some of the details of the ladies' gowns and how the dresses changed for each scene and the level of circumstance of each character. Similar details were given to the men, from the naval uniforms to the elaborate lace cuffs of Sir Walter.
Chamber Opera Tours can be proud of this long-standing production, which heads off to the Jane Austen Festival in Bath in the autumn. Barbara Landis's adaptation of Persuasion was perfect Austen, wonderful Regency, and a melange of music proven to please all preferences. Brava!
Disclaimer: I'm no theatre critic, I'm just a person who loves opera, Regency costuming, and Jane Austen who happened to enjoy this show a great deal, as Austen would say.
~~~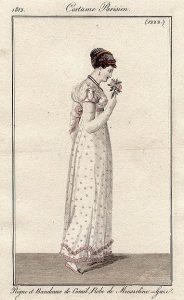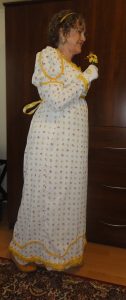 For those of you who have followed the Thrift Shop Regency Costume Experiment, I made a gown from a Value Village bed sheet at $7.99 and a ton of chenille and lace from Parasina in Mexico at about $5 and tried to match it to a Regency fashion plate for the Port Alberni Jane Austen Festival this year. What do you think? I wore Joe Fresh earrings at $3 and a Jane Austen topaz necklace that was a gift. I also had some ballet flats from Coppel in Mexico on sale at $49–yeah, expensive for me, but super comfortable for a whole day of activities, including the signing and selling of my Jane Austen Fan Fiction novels! As expected, A Most Handsome Gentleman was the most popular, given that many festival-goers had already bought and read the back-list. I got lots of encouraging comments from those fans!
I hope organizer Trisha Knight and the Centennial Belles will continue this festival for a fourth year next year so we can beat our record of 349 people in Regency costume in one place. It sure was fun! Think about adding this wonderful destination to you holiday plans for next year. I can loan a few costumes! Perhaps Chamber Opera Tours will be back with another fantastic production!