The first Regency shawls I saw were summer-weight, wispy things, mostly white-on-white and all lacy-looking. Thus, I purchased a sheer Indian shawl, as it was as close as I could get. Made of fine net in a seafoam colour with silver embroidery, it was a compromise, but I knew silver embroidery was popular on clothing in the Regency period. (Click on thumbnails for larger images.)
At some point, I saw other shawls, and realized these delicate ones were the minority. The majority were the  Kashmiri shawls, with their ubiquitous wide paisley panel at the ends and a border along the sides. Paisley, paisley, paisley. Most were cashmere, some with silk for a magnificent sheen. Wool, silk, or blends were also seen.
The love affair with Kashmiri textiles went to gowns, too. You can see how they were matched.
What's with the paisley? The bent teardrop was a popular "Tree of Life" design in Persia. When Scotland became a leader in the production of textiles, the town of Paisley became the place where cashmere shawls were made. In England, the design became named after the town.
I was ecstatic when I found two paisley Pashmina shawls at Value Village for $7.99. This turned into a facepalm moment in my shopping history. I chose the one I liked best, that would go best with my outfits, and set aside the other. The next day, I realized these shawls were uncommon, and I could have given the second to a friend, or even sold it to someone assembling a Regency costume. But when I went back, the second one was gone.
While paisley was popular, Regency shawls used other designs, in all the colours of the rainbow!
The fiber Kashmir, or cashmere, is made from the down hairs of Nepalese capra hircus goats, also called Cashmere goats or Pashmina goats. The Pashmina shawl is the modern equivalent of the Kashmiri shawl, and they're ubiquitous once again, but in different designs. Pashmina is a high-level cashmere, made from the thinnest threads.
However, most modern shawls labelled "Pashmina" have no Pashmina hair in them, but unlike the word "cashmere," there is no regulation of the term. The best knock-offs are made from cashmere and silk and cost around $100; the cheapest are $20 for viscose and/or wool. The latter textiles may keep you warm, but don't have the light weight of the fibers they're mimicking. Real cashmere will pill with wear, and doesn't have sheen or create static electricity.
I bought a real Pashmina in Turkey in 2001, and since have acquired two knock-offs. Below are my shawls. They're folded in half both so you can see their true size in comparison with one another, except the Value Village shawl is scrunched a bit to flip it over so you can the pattern on each side.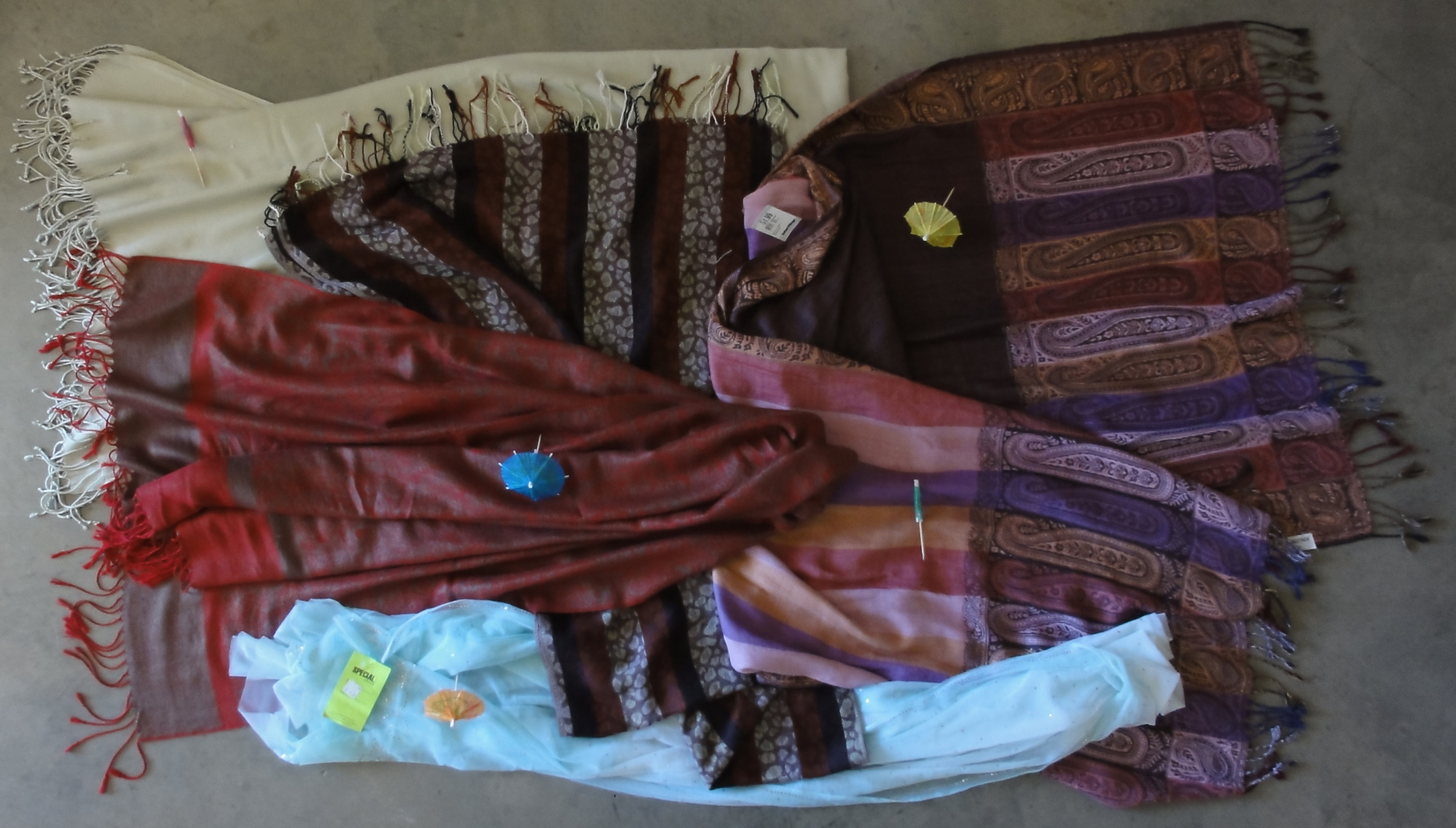 The parasol ratings show the real Pashmina (pale green) with a closed umbrella, meaning it's okay, but not the best choice. There are almost no shawls in my Regency image collection that are plain with no pattern. Its large size and light weight in comparison to its warmth is great, though. It's my airplane blanket!
The red and brown "Pashmina" is as soft and has a nice silk-like glow, but its perpetually smooth texture and $19.99 price make me believe it's viscose. The pattern and the stripe near the ends make this shawl reasonable in a Regency costume.
The brown striped "Pashmina" with animal spots was a gift. It's small for a shawl: I use it as a large scarf. The fabric is coarse and probably contains a fair bit of sheep's or regular goat's wool. Though this scarf goes well with many of my winter clothes, the pattern eliminates it from my Regency wardrobe, so no parasol.
The previously mentioned seafoam net with silver is like an evening gown wrap, and that will be its best use at any Regency event I'll attend.
The Value Village shawl is two-sided, with the centre area having bold stripes on one side and a dark grey main field opposite. When I took the photograph, I had not recalled any Regency shawls with a bold stripe in the main field, and thought I'd use what is likely intended as the back as the outside of the shawl. When I gathered photos for this post, I found an historical example similar to the side of the thrift store shawl that got a closed parasol! The sun came out, so we need to open that little parasol perched on the stripes!
An interesting historical shawl is one that has no paisley and uses a different traditional design altogether: tartan. It's a pity the only piece of Lauder tartan I own is a small scarf! I'd love to find a way to work it into one of the costumes without cutting it up or modifying it. It would be lame as a turban. These days, over the shoulder and tucked into the belt is reasonable, but I've yet to see a Regency outfit with tartan in this way. Do any of you know?
More shawls: Though mostly post-Regency, Mimi Matthews' blog has a selection of beautiful 19th century artwork with shawls.
~~~
I'd planned to do a cushion reticule post today, but I haven't made the last reticule for the set, and I had company this weekend from two different cities! Neither stayed with us, but my house needed to be tidied, and after that, our time was full with brunch, and The Bug Zoo, and skinny, former opium den streets, and other such tourist attractions!
I decided to do this shawl blog post first, as it was quick and easy. I know you don't mind!
Next post: A twist added another design to my reticule arsenal, and three different designs will be shown, plus I hope to have the pdf's ready for the patterns and instructions. After that, I still have at least three other designs I want to try making, but I may take a reticule break and show some of the "Faking Regency" tips.