I didn't expect to be releasing a book so soon, but Janet Taylor, the marketing director at Meryton Press, had an idea. "Let's create an anthology of longer short stories," she said one day last winter. She had already approached a couple of other authors who were keen, and we were to share our stories of under 30,000 words.
At the time, I was just finishing book one of my Regency romance trilogy Cecilia's Mismatches. Since I wanted the three to be released close together, it would be a good year until I had a new book release. The short story would be a good way to keep my name in readers' minds. But I had nothing good to share in my old stories, so would have to write something new. What to write about? I considered several ideas until I latched onto one about Darcy being melancholy after the Hunsford proposal and his family staging an intervention.
A few months later, while I was still writing my story, Janet came back and said, "Michele and I learned that anthologies are passé, and we really should do a series of short novels." Michele is the managing editor at Meryton Press. Janet asked more authors if they had a novella up their sleeve, and there was a lot of excitement about the series called Skirmish and Scandal. I figured my bit of light romance could just fit sideways into that theme. Completing a novella would be easy because my short story was coming in at just over 30k words. Since I had time before the series was scheduled to be released, my trusty betas ldb531 and Anji went over the book and reminded me that I'm human: lots of red pencil, so to speak!
I was fortunate to have the inimitable Ellen Pickels as overall editor and formatter since I had worked with her as a copy editor, proofreader, and formatter for four novels already and knew her style. We got through the book quickly, and she helped me find a better name than the original The Fitzwilliams Intervene. The title became Schemes of Felicity, much better in many ways. Janet Taylor gave me a fantastic cover with artwork by Frédéric Soulacroix and a Skirmish and Scandal theme. With some bumps in the road–two novels expected to come out before our series were delayed (COVID 19 was a real issue for several lead players at MP)–Skirmish and Scandal was finally unveiled, and I was the lucky author whose book came out first!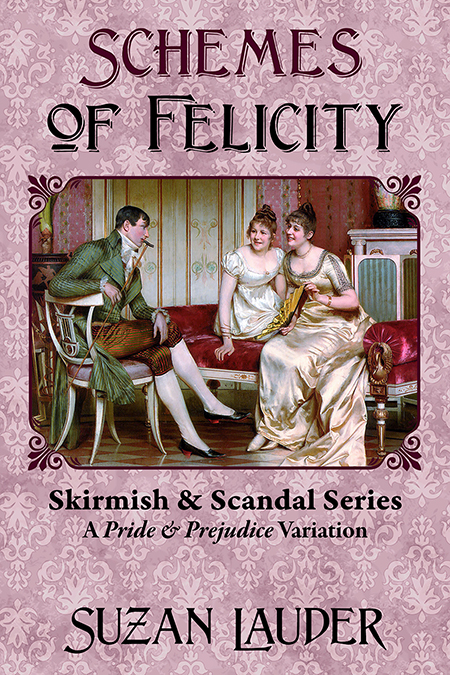 Shortly after Schemes of Felicity came out, the audiobook for A Most Handsome Gentleman was released. The narrator, Ofelia Oliver, sounds like my perfect Elizabeth Bennet. Since this story is in first person (I blogged about this in an earlier post), her suitability is more important than in most audiobooks. I do hope you get a chance to listen to this excellent recording. In addition, you can check for The Mist of her Memory with Neil Roy McFarlane, whose voice is swoon-worthy.
And in the future, while I'm busy writing book two of Cecilia's Mismatches, you can watch for more audiobooks from me, beginning with Schemes of Felicity and followed by Letter from Ramsgate and Alias Thomas Bennet. So, if you're a person who prefers to listen to books, your chance to enjoy all five of my books will be coming soon.
Here's what they're saying about Schemes of Felicity:
Fun with 5 stars: "This book is a delight!" "Thumbs up." "I could not put it down." "a very pleasant reading experience." "Authentic and clever writing style." "I enjoyed the story immensely." "well-written and proofread" "This story was so good." "I loved it." "I recommend this to all Jane Austen fans!"
More fun with 4 stars: "I do love the way Ms. Lauder writes!" "I highly recommend this story." "cute and adorable." "beautifully penned" "The ending was so swoon-worthy." "an enjoyable storyline."
I'm certain you hope you can read it soon!