I tore apart all my gowns. Not all, but the ones not torn apart need to be torn apart to be Regency. My ball gown is nearly completed, and some adjustments were planned for my morning gown, but I was better with the stitch ripper than concrete finished designs when I decided it would be fun to dress up for my local JASNA's Jane Austen Regency Tea Party last Saturday.
I quickly faked Regency. So quickly, I forgot to take photos of much of the construction for this blog! The finished product will have to do!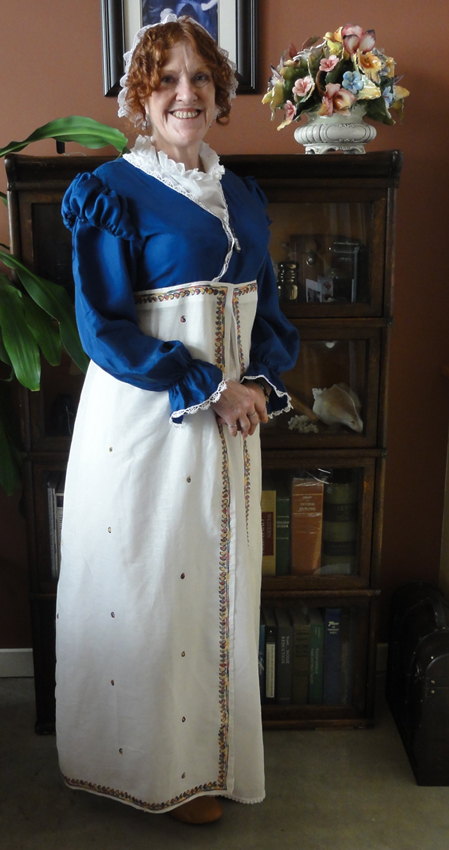 My Emergency Regency gown:
A Value Village purchase, a $7.99 length of paisley-embroidered super-fine cotton  targeted to eventually become an entire gown, became a skirt by gathering one long side at the centre (back). It was left open in front as it had trim along all four edges, so this was a Regency look I desired. The petticoats skirt from my morning gown was worn under it, as other possible underskirts were coloured with no trim, and this one was white with lace trim along the bottom, again, looking quite Regency! Coloured with lace would have been pretty.
A $9.99 navy silk blouse from Value Village was hemmed to bodice-size (like making a spencer). The ruffle at the neckline was used to make puffs at the tops of the long sleeves, and a front opening was added. I sewed a rolled edge on the neckline, but it  wasn't pretty, so some sale Venetian lace from Dressew ($0.50 per meter) was added to the neckline. I liked it enough to add more to the sleeve bottoms.
The bodice was sewn to the skirt, except at the gathers, where I pinned, as it was too heavy for my machine. Hooks and eyes were used to close the front (more about that in a later post).
I also wore a fichu (the event was 2pm-4pm, still "morning" for Regency, hence arms and chest are covered), pantalets rather than another slip (the petticoats are sheer, but it was a warm day), and got away with my black bustier due to the navy bodice. The bustier gave a much better Regency silhouette than did the Balconet bra and waist cincher I wore to the Jane Austen Tea at Starling Winery in June. My half-boots and the first Capote hat I made for the Thrift Shop Regency Costume Experiment were also included, as was the Moorish-looking reticule and brisé fan.
I'll have to rip the skirt apart again, but the top was planned to go with another skirt from a spaghetti strapped evening gown skirt with tons of fabric, so it got me ahead on another project. This project took about two days, much faster than assembling either of the other gowns, due to lace issues, and scissors that Mr. Suze used that now need to be sharpened, and it's a long story.
I also made a Regency snack in that time! The 1820 cookbook I have on Google Books wasn't too useful, so I cheated, but I'm sure this type of tea-cake is time-tested before Austen's era. Here is the recipe:
Tea Cakes, from A New System of Domestic Cookery by A Lady (Maria Eliza Ketelby Rundell), 1833
Rub fine four ounces of butter into eight ounces of flour (I interpreted this as cutting unsalted butter into all purpose flour with my pastry cutter); mix eight ounces of currants (I only had 5, but it was plenty!) and six of fine Lisbon sugar (Whoa! Schweeet! I used regular granulated sugar.), two yolks and one white of eggs (I beat them slightly first), and a spoonful of brandy (What size spoon? Muahaha! Tablespoon!). Roll the paste (I worked with my hands to mix first) the thickness of an Oliver biscuit (Who?) and cut with a wine-glass. You may beat the other white and wash over them; and either dust sugar, or not, as you like. (I like! A big pinch per cookie.)
That's it, the whole recipe, plus my comments, of course! I guessed, and baked them at 350F for 10 minutes. I got a couple more than two dozen, which allowed for taste testing! They were a bit more browned than I'd like, but the taste and texture were very nice! In retrospect, I'd make them a bit thicker (they were the thickness of a thick cookie) and bake at 325F for 8-10 minutes.
As for the mystery of how thick to roll them, one of our gentleman Janeites brought Bath Olivers! Oliver was a doctor in Bath, and invented Oliver buns, but found his patients gained weight from eating them. He developed Oliver biscuits for weight loss. They're like a thick, doughy water cracker, to be eaten with cheese.
Other members brought sweets like Regency-style gingerbread cake, plum cake, pound cake, custard, jam tarts with a lard-based recipe for the crust, Regency-style tiny chocolate tarts, caraway-seed cookies, and Jane Austen's silhouette-shaped sugar cookies. We tried Regency beverages including negus, spruce beer (non-alcoholic, like root beer, and in cans, from Montreal!), ginger beer, lemonade made the way Jane Austen would have made it, and elderflower cordial. There was a savoury mixed-meatball that sounded a bit gross, some Stilton, and other Regency treats on hand, as well as modern additions of tea sandwiches, devilled eggs, and chocolate cookies. I ate a salad for dinner that night!
In addition to the clothing mentioned above, I was the only one who wore a lace cap, or as christened in an earlier post, Special Headwear for the Grown-Up Lady, which details the Regency cap and shows some pretty museum examples.
The Lace Cap, Measured in Nails
The cap pattern was from The Workwoman's Guide, by a lady, available on Google books; it's worth having a peruse through for all the interesting information, including cuts of meat, carpentry, and other household knowledge. Descriptions are in the text of the book, but drawings are at the end.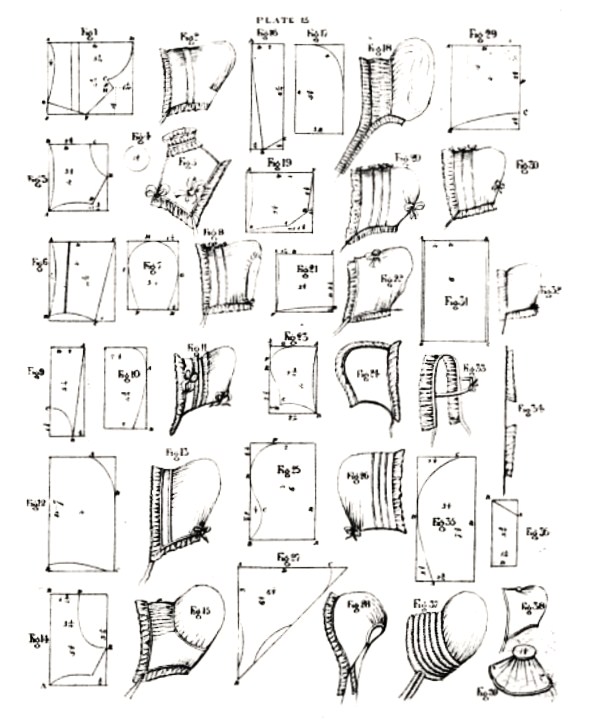 My cap for the Tea in June was made from Fig. 6 through Fig. 8, Simple Dress Cap or Bonnet, since it looks like many Regency bonnets. The instructions use nails as a measurement. My head circumference in comparison to the drawings suggested 1-3/4 inches per nail. I tend to wear small hats, and I have short hair. I made a little mock-up to be sure, and the length of the back panel was reduced to remove an ugly poof and allow gathering per the original pattern.
Last week, I made another to see how big one would be if it were made using two inch nails (somehow there's a joke in there!). Without lace ruffles at the edge, it's big on me, so I feel two-inch nails is size large. You can see the difference below in the fit on the wig head.
To make it easier for others, I drafted the adjusted pattern with notes, and the pdf is for anyone's use: Simple Dress Cap or Bonnet Adapted from The Workwoman's Guide (1840) by Author Suzan Lauder
Next post: Probably more of Mr. Suze's costume: In addition to last week's post, his boots, top hat, watch, and walking stick are ready to go. I have materials for trousers/breeches, shirt, cravat, and whiskers, all easy to make. We're searching for a watch fob and he's done! My lace issues may mean it takes longer for my gowns! Getting down to the wire for Louisville!