The road trip is over and my "day job" as adorer of two kitties has resumed. I am reminded in bossy purring meows that both deserve extra attention, and I'm rewarded with relentless purring that will extend until the wee hours tonight and over the next several days at least.
A final late night involved packing all the gear we brought to the 2015 JASNSA AGM in Louisville, KY. In spite of delays resulting in my husband and I scurrying through to beat the clock at every connection, a re-routed itinerary, and a novice security person confiscating Mr. Suze's Regency walking stick, we got home after 15 hours of travel in a good mood.
This AGM has been an important goal for almost two years. The event differed from my expectations, and I'm glad I attended, but in some ways, it was an anticlimax. My mixed emotions are yet to become clear, but some conclusions can be shared with the readers of this blog, including my feelings at this point: Relief, regret, and pride.
Relief
Sunday will be the last of two months of a marathon of preparation with many 2am bedtimes, including hand sewing every night of the conference! I won't miss the stress, exhaustion, and missing out on other things that characterized my life at the end of the Thrift Shop Regency Costume Experiment!
My most substantial relief was measured by repeated expressions of admiration from other JASNA delegates on Friday and Saturday, followed by multiple entreaties to stop every 20 feet so a dozen flashes could go off while people photographed Mr. Suze and I as part of the Grand Promenade. It said the blog goal was successful.
I'm also relieved that people who were less welcoming kept their views to themselves when off Facebook! I've avoided mentioning this on the blog to keep things light, but nay-sayers created a huge area of trepidation for me coming up to, and during the conference. It's difficult enough for anyone to try something new in a public forum, but my fear of failure worsened when I discovered my blog had been an open topic of ridicule in some costuming circles. The funny thing is, these people state hopes to encourage others starting out in costuming, yet their welcome is wanting. No, scratch that. I'm still awaiting the welcome.
Regret
It's too bad I didn't have more time to explore more of Louisville, a nice-sized, safe, comfortable, lively town full of welcoming, friendly people. Everywhere we turned, we met and spoke with helpful, smiling locals. Because Mr. Suze explored while I was in seminars all day, he vocalized this opinion strongly.
I looked at lace and ribbons in the shops of the Regency Emporium, as well as actual fashion plates from the Regency (including examples I've used here!) for a minimum of 6 separate visits—and I bought only four unrelated books!
I'm sure the shop staff recognized me. I was intimidated and flummoxed because, similar to my experience shopping at home, I could see how lovely these items would be on a costume, but waffled on which to buy and quantities. Did I want to use expensive silk net for sleeves on a polyester gown?
I hope I won't be too disappointed to have wasted an opportunity to purchase embellishments better than any I've ever seen elsewhere!
Contrary to my expectations, I don't mind too much that I couldn't bring the planned jonquil gown, as my last-minute compromise with the translucent fuchsia overdress worked well.
I left the AGM uncertain about whether the blog had readers outside of my circle of friends. I'd hoped to have more Janeites approach me for the give-aways, but prizes I'd planned to hand out came home with me.
However, when authors Maria Grace and Linda Beutler both commented, "Is that the spencer from the blog? I love it!" and admired all the details, especially the little skirt detail in back, I was proud, even if the sewing quality is atrocious!
I wish I'd had more time to get to know more people. I did enjoy the company of fellow Meryton Press author Linda Beutler for some events and tourism, and it was sad to split up to go home again. Luckily, there's AHA Chat and Facebook to remain close to those I met whom I already liked!
Pride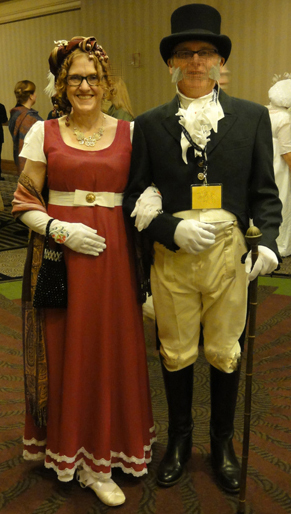 Mr. Suze's costume was right up there with some of the best of the menswear. The cut of the tailcoat and shirt neckline set his apart from amateurish-looking versions, even if we were no more expert than the others! I'd found some brass buttons with a crown-type coat-of-arms on them at 3 packs of 3-4 buttons for 99 cents each at Fabricland that really set off the tailcoat. Louisville has a fantastic gag shop (Caulfield's Novelty Inc.), where he spent too much on a set of grey sideburns to add a final flourish that got quite a few laughs.
Many ladies' costumes had breathtaking details in fine silk and fancy lace, with pleated, ruffled, or impossibly swirled trim, soutache and buttons and tassels in just the right places, enormous hats with giant feathers and unique bands, and gowns with professional-looking cut and quality of construction. Though my costumes were simple in comparison, they did the trick well.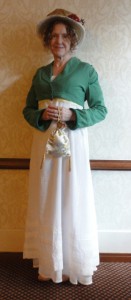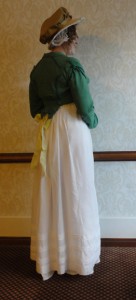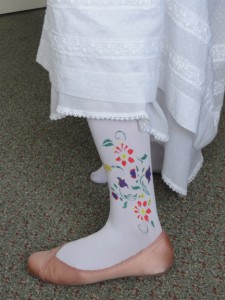 Saturday's gown from morning through the author signings was the Swiss dotted dress, remade with a Regency-cut skirt, the lace shared over three rows, shorter puffed sleeves, and a real diamond back bodice, as I developed a Regency pattern fitted specifically for myself. The Pomona green spencer was worn all morning, since many others were doing the same, perhaps in response to light-hearted in-character comments by a couple of presenters as they joked about disapproval of married women who wore plain white! I would have added more ribbon to give this lovely gown colour, but time ran out!
My ball costume was "thrown together" in a few days. Little flourishes, like the painted designs on my opera-length gloves, the way my turban tied in a unique and cheeky way in one go and sported a bejeweled elephant pin and curled ostrich feather on top, and two new rows of lace on the bottom of my improvised gown helped my simple effort look like it belonged there.
I think our smiles made me and the Mr. appear better than many at the ball, as we had a great time among the multitude of amazing costumes.
The visible minority!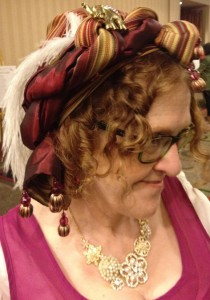 About 20% of the people at the AGM sported Regency costumes the first few days, but I'd guess the proportion was at least 40% at the banquet and ball on Saturday night. Author and organizer Sharon Lathan looked so perfectly ordinary when I first met her that I didn't realize the pretty blonde woman in glasses and jeans was her! She glowed in her silk ball gown, though!
I wore Regency for two of the four days I was present for activities around the AGM proper, which was 2.5 days long. Others who, like me, were at their first AGM and all smiles in their bold effort at a costume that fit in at the ball, included JAFF authors Linda Thompson and Melanie Schertz, whose service dog, Mr. Darcy, had all the ladies swooning in his cravat!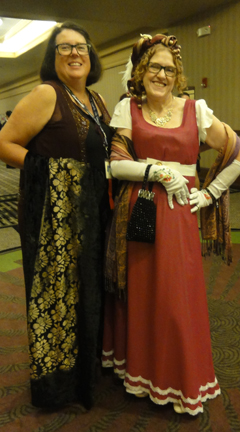 Among those who wore something awesome that wasn't Regency was author Linda Beutler. She shared a table with me for the author signings and banquet wearing a vintage 1920's beaded gown with exquisite details and accessories. With a break from her normal life of gardens for living, her nails matched her deep maroon gown.
Some participants, like author Syrie James, changed for the ball by simply removing a shawl or fichu from the dress they wore that day. Author Maria Grace sat next to Linda and me for the signing event, and she and her Mr. changed from regular clothes into attractive and well-executed Regency costumes for the evening, then cut up the dance floor like pros!
Sue Forgue of the Regency Encyclopedia turns out to be a bit of a fashion plate. She donned a different gown during the day and evening on Saturday, the former with an amazing floral pattern straight out of the Regency that made me match my spencer in jealousy. Interestingly, the latter was a Pomona green silk! Sue enhanced both gowns with gorgeous matching jewels and reticules! I wish I'd thought of photos, and if I get one, I'll add it to this post.
The Splash
Not a literal splash, but trip on the Ohio River on a 1914-built steam-engine paddlewheel boat, the Queen of Louisville, was a ticketed event last night to culminate our visit for the AGM.
I doubt that more than 5% were dressed in Regency costume! I think many are more comfortable without a corset, no matter how well it improves one's posture! I wore a nice modern skirt and blouse for the boat trip. In the daytime, it had been a Jane Austen t-shirt from my local library's fundraiser paired with Michael Kors skinny denim capris!
The weather was fine, as it had been for the whole trip—in the high 80s, when seasonal normal daytime temperatures are in the low 70s.
The Future for my Regency Costuming
One of Meryton Press's editors and our unofficial social media marketing coach, Christina Boyd, suggested early on in the Thrift Shop Regency Costume Experiment that the series would make a good book. She's repeated the sentiment, and it's tempting, though I'd have a great more due diligence on ensuring permissions for images, making it a big project when I'd like to get back to fiction.
"Encyclopedia Sue," who adores JASNA as a learning experience, staunchly supports the positive examples that instigated the interest in the Regency and Austen for many (including the BBC/A&E miniseries) and spends a huge amount of time sharing resources to help writers and researchers improve their craft, suggested the blog as a seminar for a future JASNA AGM. Though I admit I had some interesting ideas for topics I'd enjoy presenting for this AGM (and didn't explore them due to lack of time!), without Sue putting the seed in my mind, I'd have never thought of the TSRCE in a seminar format. I'm tempted!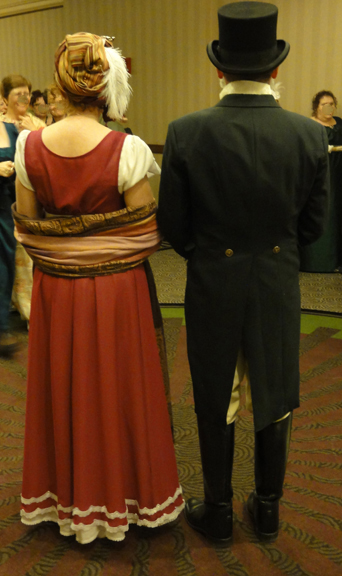 Though I know I'll continue to make gowns and hats based on the wonderful examples I saw this year, for personal reasons, it's unlikely I'll have time to attend next year's AGM in Washington, DC, but I hope to repeat this, with gowns made well ahead of time, for the Huntington Beach, CA AGM in 2017.
Locally, I'll wear my costumes to JASNA events along with a dozen or so others who enjoy that aspect of study of Austen and Regency.
On July 8 and 9, 2016, the town of Port Alberni, BC, Canada (about 3 hours from me, on Vancouver Island) is hosting its first Jane Austen Festival, and claims an intention to break the world record for Regency costuming. I'll be there, and I hope I can throw some of my extra gowns on some friends, including enticing a few from around the world to come visit me while they help Port Alberni with its goal. With vintage dresses and fabric, I have the basics for at least a dozen gowns, never mind that I yearn to tackle fabric and look a little like Sue did on Saturday!
~
Future posts:
Side issues and tips related to attending an AGM.
Reprint of a Regency-related article I wrote for another web site.
A blurb and teaser for my latest novel-length story, Letter from Ramsgate, rated Teen, which will be posted in full at A Happy Assembly. Join us in the group read and story comments! AHA is a members-only web site dedicated to Austen-inspired fiction, research of Austen and Regency topics, and the resulting social interactions. It has over 9000 members worldwide, and 500 completed Austen-inspired stories. Membership is simply to ensure readers are over 18, and your personal information remains as personal as you choose.
I have other writing projects underway, and blurbs or excerpts will be shared here in the future!