Are you playful? The tiny purses of the Regency are! They're a flexible accessory, with plenty of room to play when selecting or making one. A cute little drawstring bag similar to Regency museum pieces isn't hard to find, but if none can be procured to suit your taste, they're not complicated to make for under $10.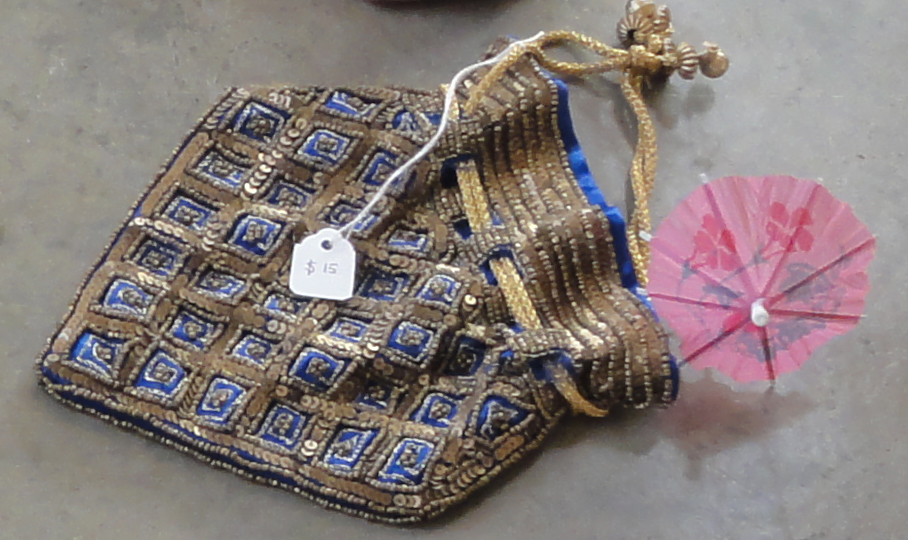 In perusing the various fabrics and designs of museum photos of purses from the first 20 or so years of the 19th century, I realized the brocades, embroidery, and silks of modern throw pillows had amounts and type of fabric to suit re-purposing/upcycling into reticules. Decorative cushion covers run from $1.99 to $7.99 at thrift stores. The most common size is 17" square.
Cushion covers come with two layers, sometimes in pairs, often feature attractive trim and, depending on the shape desired, they're partly sewn. From there, I came up with designs to maximize the fabric, and discovered that up to four reticules could come from one 17" square or larger cushion cover! I have several designs to share, and they could inspire you to use your cover for your own unique reticule.
Now, I know you don't need so many reticules! You can make just one, or you can give the extras as gifts. Even friends who don't dress up for Regency events will like them as an evening purse, to store lingerie or jewelry, or to fill with lavender for a closet or drawer scent.
It's important to consider your final design when you purchase the cushion cover. Many have directional fabric; are made in multiple panels, with different motifs in each; or have modern themes that don't suit a reticule. The buyer must pick and choose.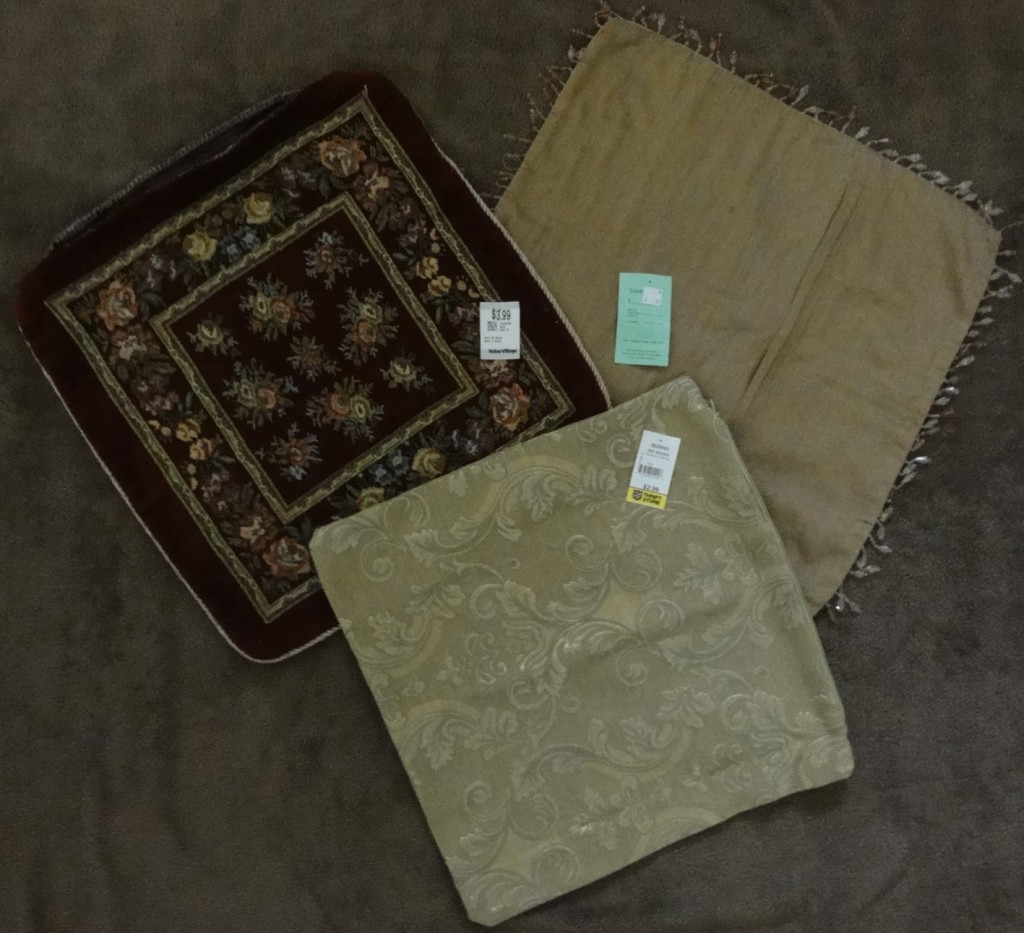 I chose three:
• For $1.99 at WiN (Women in Need Vintage and Thrift Store), I got a 17" silk dupione cushion cover with a beaded fringe—plastic, but I think it looks enough like glass beads.
• A 16" square gold damask polyester cushion was $2.99 at Value Village, and it looks rich enough to be silk. There's no edge trim.
• The most expensive cushion was $3.99 at Value Village, a 17" red brocade with pink and yellow roses in the centre field and in a square around it, with multi-coloured bands on each side. It also has a pink corded edge sewn in without the benefit of an attached tab.
Lining the reticule is optional, but may be preferable if it's a light fabric. I lucked into finding a cream satin pillow sham that has potential to line up to six reticules.
I've designed five pages of patterns, to come up with eight different reticules, and potential to modify them with scallops makes even more possibilities! In addition to instructions for each design, I also have instructions for adding lining, cording, trim, and tassels.
The Designs (click on thumbnails for larger views of the museum Regency examples)
Square or rectangular reticules can be made from any cushion cover with dimensions starting at 14" for two side-by-side, and the maximum length that works without wasting fabric is 24". There is no pattern sheet for these, but there will be instructions.
Reticule Designs 1 through 4 are on two pages, with instructions. They are nice for cushion covers that have a running trim along the edges, be it fringe (including tassel fringe or ball fringe) hanging bead work, piping, or braid, though all designs work with any kind of cover. Reticule 3 is especially good for piping or braid.
Designs 2 and 4 are smaller, and would benefit from a lining, so the top would not have to overlap to make the sleeve for the drawstring—we'll see an example. The Envelope Reticule (#2) is my own original design. It's Regency-appropriate and unique.
The patterns can be modified, for example, scalloped edges can be added to designs 1 and 3, tassels sewn into the seams at the points. The folded end finish directions of Reticules 2 and 4 will make these scalloped reticules close in looks to the museum examples.
One of the most common styles of reticules seen in the Regency is a three-sided version of the above, and instructions are included with the pattern for #3 and #4. A large cushion cover with a plain back is best for this design.
Design #6 is ideal for a cushion cover with a regular banded design making square interior frames on the sides, and preferably also a corded or piped edge. It can be made with either same both sides or one-side finished cushion covers. The finished reticule looks similar to the one on the left. Depending on size, a nice central field design on the cushion could make another reticule.
There are two patterns for Petal Top Reticules, which work well with cushion covers with a corded or piped edge and some motif of interest near the corners. Both of these work better if the back panel is a plain/lining material rather than matching the front side.
The inspiration museum designs show one where two matched cushion covers would be needed to make 6 petals for Petal Reticule #1.
A long Petal Reticule or three-sided Reticule #1, with sharp scallops cut in the sides can look like a Pineapple Reticule (right), which were very popular.
Construction:
No-sew tape can be used to make the reticules, but some seams should be reinforced with hand stitching and bias tape, and no-sew tape is hard to use on curves. The beginner sewer will find it takes less time and may be easier to sew the short, straight seams.
A mock-up is shown for the most straightforward design: the square reticule. The option of tassels or fringe is shown, as well as a geometric design on the side, made with cording. You can see what beads would look like on the drawstrings.
The dahlia and marigolds are from my garden, in one of Grandma Lauder's pinwheel crystal vases. I was dead-heading and awkwardly lopped off a few fresh flowers, so I kept them!
~~~
There are far more reticule designs in museums, many more complicated than these simple ones, made by up-cycling an item that's no longer stylish for its original intent!
~~~
NEXT POST: Some examples of assembly of these reticules, and the patterns.